Surface Book keyboard review
11th Apr 2019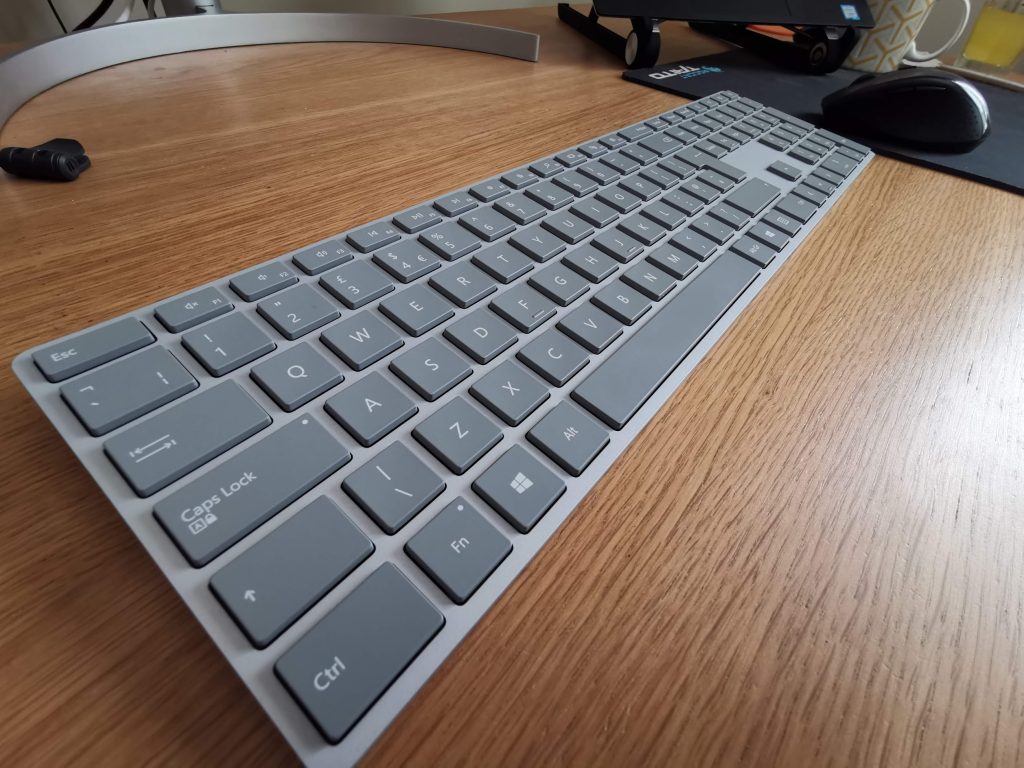 I've said it before, and I'll say it again - I prefer chiclet keyboards. In my opinion, they are more suited to a long days worth of typing and programming than a mechanical keyboard, or a more conventional keyboard.
The Surface Book keyboard is the second chiclet keyboard that I've purchased in the last month, with the previous one being the Cherry KC 6000. I bought the Surface Book keyboard to be a replacement for my home setup, where I was previously using an ageing and horribly tatty Microsoft Ergonomic USB natural keyboard.
The requirements
My requirements for my home keyboard were slightly different to my workplace keyboard requirements:
Must have chiclet keys
Must not look too garish. Whilst this is for my home setup, I like having a neat desk, and a luminous keyboard with fancy lighting just wouldn't fit into this
Must not be a natural keyboard. I had previously used an ergonomic natural keyboard for a good few years. It was good in the sense that I didn't get any discomfort using it, but I don't think my typing style was every completely suited to it. My left hand in particular liked to travel into the right hand section of the keyboard during some keypress combos. I also found some aspects about the key layout to be jarring - such as the double spaced "n" key.
Must be bluetooth. Like I say, I keep a neat desk and the fewer wires, the better.
Must have a numeric keypad
Must not have any keys in strange places. As a developer, I use the ctrl, alt, super, home, end and paging keys a lot. Any re-arrangement of these keys would probably impact my productivity, so these must firmly stay where they would normally be
The matching keyboards
I found two keyboard that matched my needs. The first was the Logitech Craft, which also has the added bonuses of being able to pair with multiple devices, and also has a big wheel that can be used for additional control, although this sounds like it does not typically stretch beyond volume control: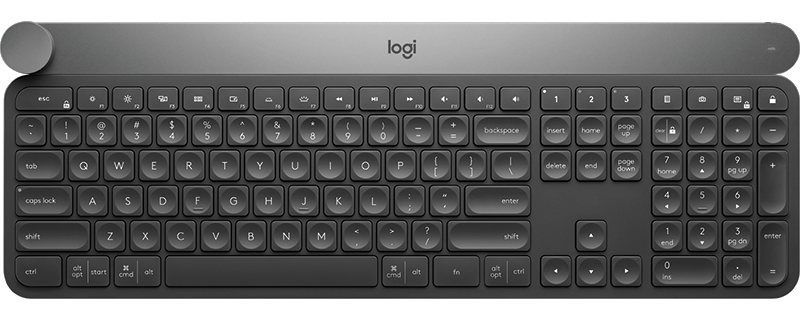 However, there are two downsides to this keyboard:
1 - it's expensive, priced at about £160. Whilst I think that as a developer I need the best tooling, this just feels like a stretch.
2 - It's hard to get hold of. When I was trying to purchase this keyboard, I struggled to find anyone that actually had it in stock, including Amazon. I eventually found it in stock on very.co.uk, but it wasn't really in stock and they sat on my order for over a week before I lost my patience and cancelled.
This left one other keyboard - the Surface Book Keyboard.
Surface Book Keyboard Pros
The keyboard is aesthetically very pleasing, with a small bezel and a simple and tasteful grey and white colour scheme used. The Bluetooth connection helps with the appearance of the keyboard as it means you don't have any wires to try and hide or make neat. I'd describe the footprint of the keyboard as low profile, as it has such small bezels and looks discreet yet impressive in the middle of your desk in complete isolation from any sort of cabling.
It is super comfortable to type on, with the key presses feeling light yet satisfying to depress, with a sufficient level of feedback delivered to your finger tips. Typing on it is pleasurable and fast.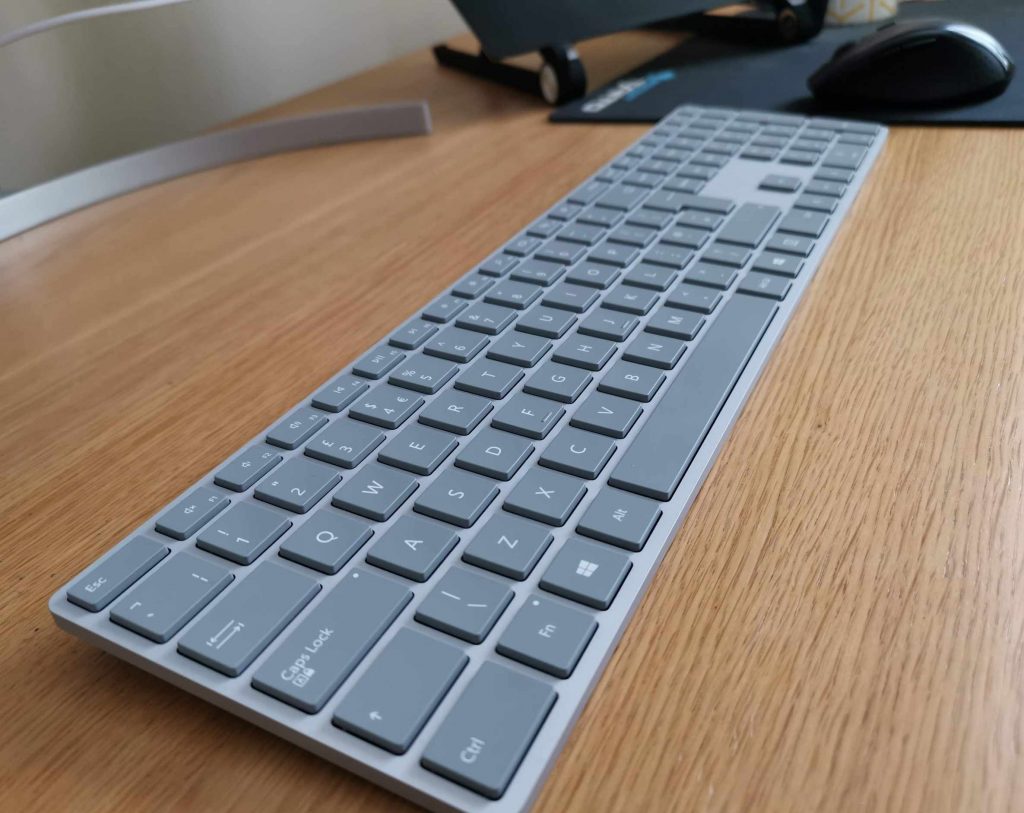 The general typing comfort is helped along by a healthy level of banking on the keyboard towards the user, which is something that the Cherry KC 6000 fails at. The brilliant thing about this banking is that it's a stroke of smart design - the bank towards the user comes from the battery compartment: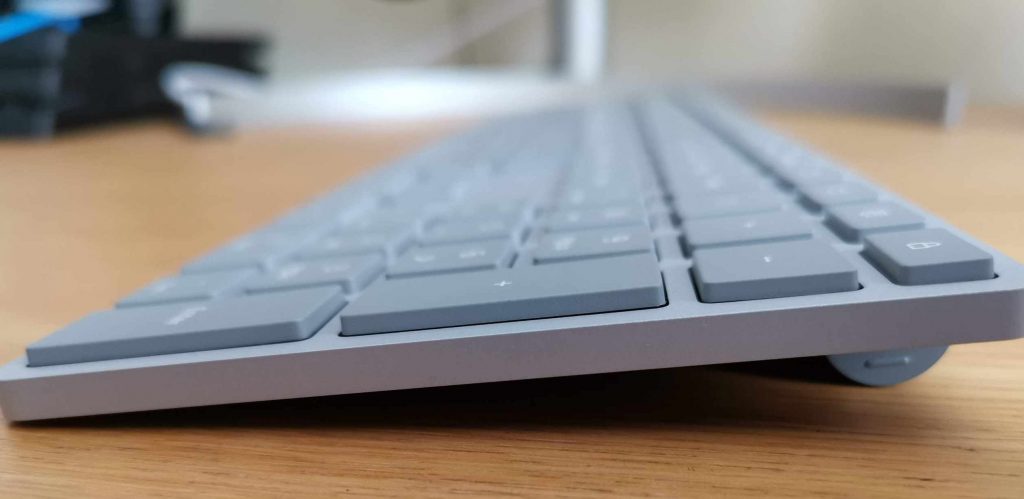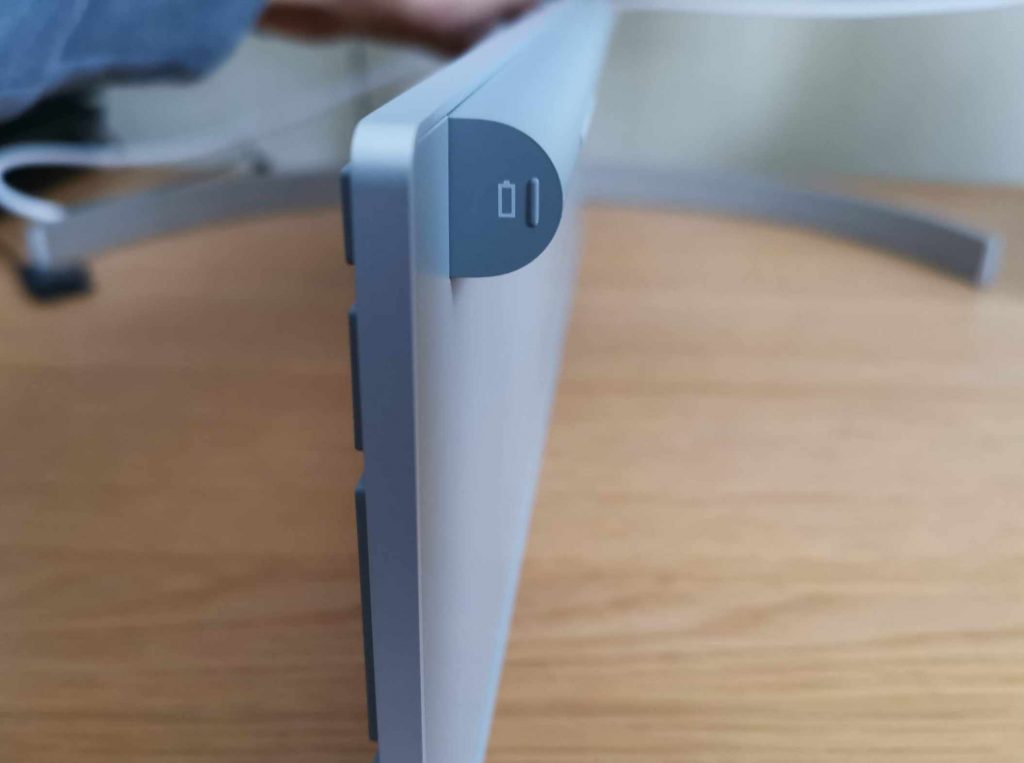 The keyboard layout is sensible, and doesn't try to be too clever in this area by re-stacking keys or jigging around the layout of anything. It very much is laid out like you would find a laptop keyboard - with the Function lock key placed between the Ctrl and Super keys. This probably is a big plus for you if you tend to dock your laptop and work off of it, or if you're used to working on a laptop keyboard. Plus points for me on both - when I'm at home, I work off of my laptop on a stand.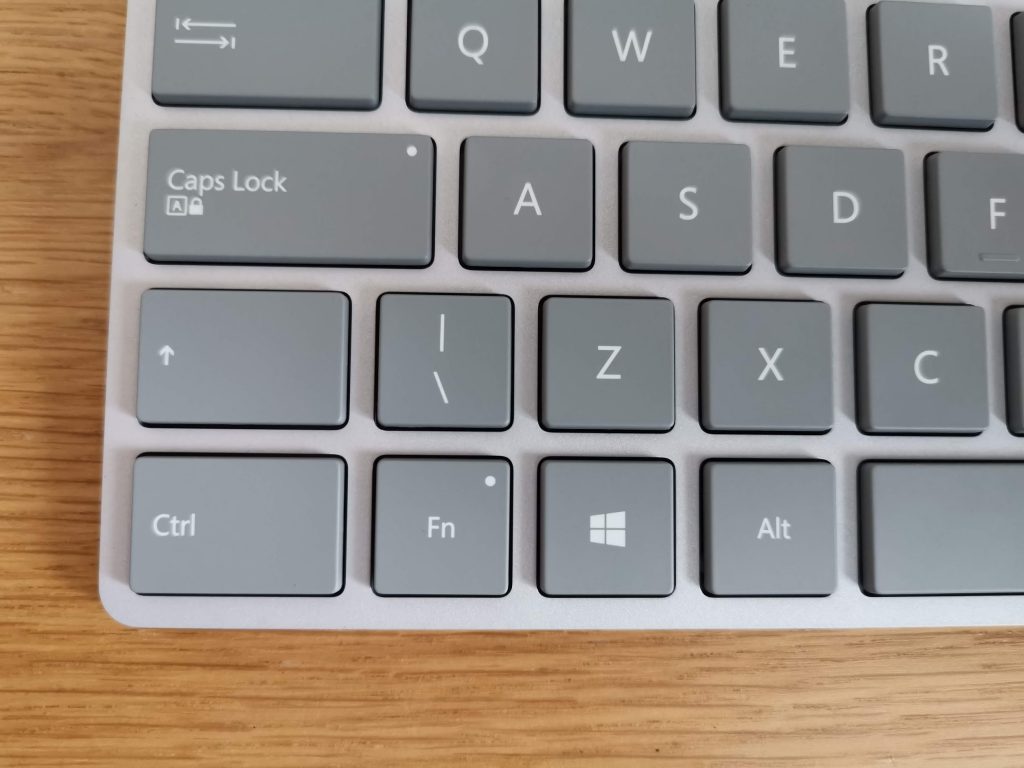 Availability wise, this keyboard is very easy to get hold of. I ordered this online at about 4pm through PC World's website, and was able to collect it the next day at 11am from my local store. It's also well stocked elsewhere around the web, which is a marked departure from my experience when trying to purchase the Logitech Craft.
Cost wise, the Surface Book keyboard can be yours for £79.99. This appears to be a fixed price, much in the way that Apple price their hardware. It's the same price everywhere, unless you look at used items. Here are some links:
Surface Book keyboard cons
The only real downside for me (and this is a nitpick) with the Surface Book keyboard is that it can only be paired to one device at a time. I often switch between my desktop PC for gaming, and my Xubuntu laptop for everything else. This means that every time I do this, I need to pair the keyboard again. Luckily, this isn't much more than a slight inconvenience, as the pairing is a quick and painless experience on both Windows and Ubuntu based operating systems from version 18 onwards.
Protip - don't throw away your USB keyboard
USB keyboards have two big advantages. They don't need batteries, and they will work as soon as they have a physical connection, even whilst your machine is still booting up. If you need to do anything in the BIOS, for example, you will not be able to do this with a Bluetooth keyboard as the drivers for it will not have been loaded. So, keep your dusty old USB keyboard for the day when you run out of power and have no batteries, or for when you need to jump into your BIOS.
Conclusion
On the whole, this keyboard is fantastic, and I've give it a 9 out of 10. I'd highly recommend this keyboard for general typing, programming, and some gaming.