Keyboard: Cherry KC 6000 review
29th Mar 2019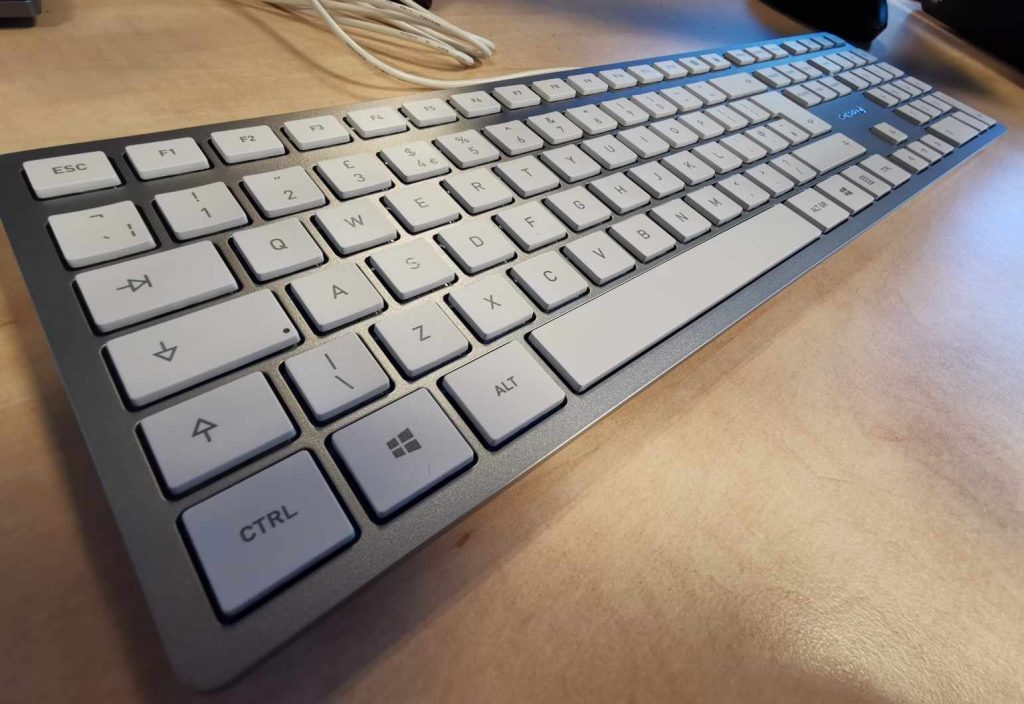 I prefer chiclet keyboards. I haven't done any scientific analysis, but I'm confident that my words per minute typing is higher wen I'm using a keyboard that has chiclet keys. Amongst developers this in an unpopular opinion, with many developers preferring mechanical keyboards (don't be that guy smashing a mechanical keyboard in an open plan office!)
Chiclet keyboards have keys that do not need to depress as far in order to register. They also have an evenly sized gap between each key, making it more difficult for you to fumble the keyboard and hit the wrong key. They are typically found on laptop keyboards.
With that in mind, I needed a new keyboard to replace the one I take into client offices and leave there whilst on a contract. I was previously using an old, fairly standard Dell USB keyboard that was becoming embarrassingly tatty - most of the key letters were completely worn off. It also seemed to be forever caked in a layer of dirt that no amount of cleaning could remove.
My requirements were fairly simple:
It must be comfortable. This will be used for long periods of time (6+ hours a day) and I've found myself experiencing some discomfort in the later hours when using my bog standard keyboard.
It must be USB - I understand the need for a wireless mouse, but a wireless keyboard is an unnecessary luxury for my day to day desk based work. Also, the less interacting with bluetooth, the better.
It must not be garish - I don't want to demo things to clients and my keyboard be a huge distraction because it is letting off a luminous glow.
It must have chiclet keys for the productivity and preferences outlined above.
It must have a numeric keypad (it does make me wonder how developers and other creatives work for large amounts of time without a numeric keypad)
The keyboard I found that fits the above is the Cherry KC 6000, which is priced nicely at £35 on Amazon (The linked product incorrectly claims the product is the Cherry KC 600, but this is just a typo - the Cherry KC 600 does not exist and having taken delivery of this item, can confirm that it is indeed the Cherry KC 6000).
On the whole, I am very happy with this keyboard, and would give it 4 out 5 stars:
Pro: Super comfortable to type on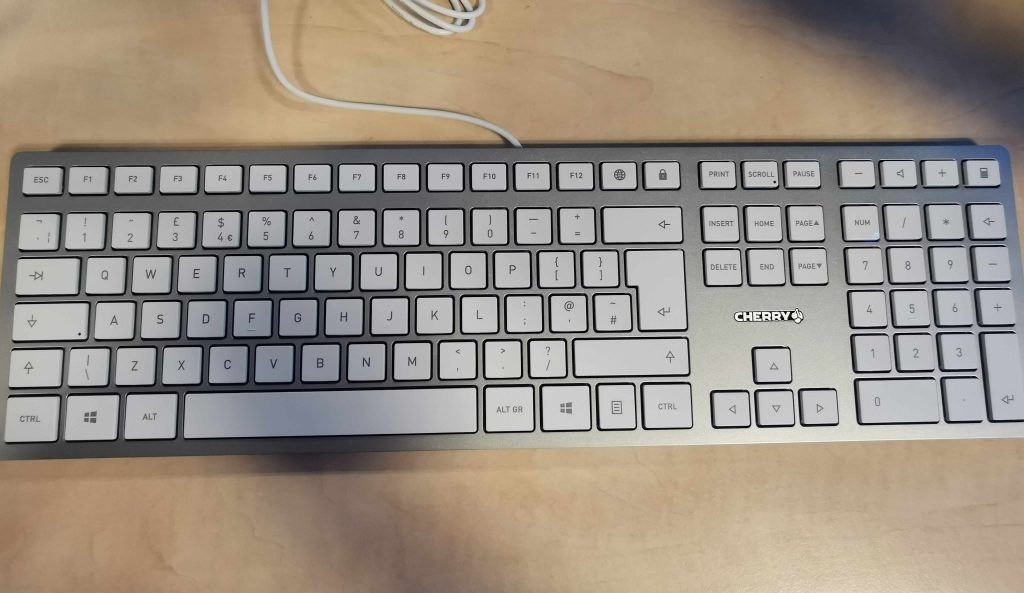 This is by far the most important factor on any keyboard! The keys have a really nice weight and feel to them, and typing for a long amount of time on this keyboard is comfortable and does not result in any straining pains that I would sometimes get on my previous bog standard keyboard.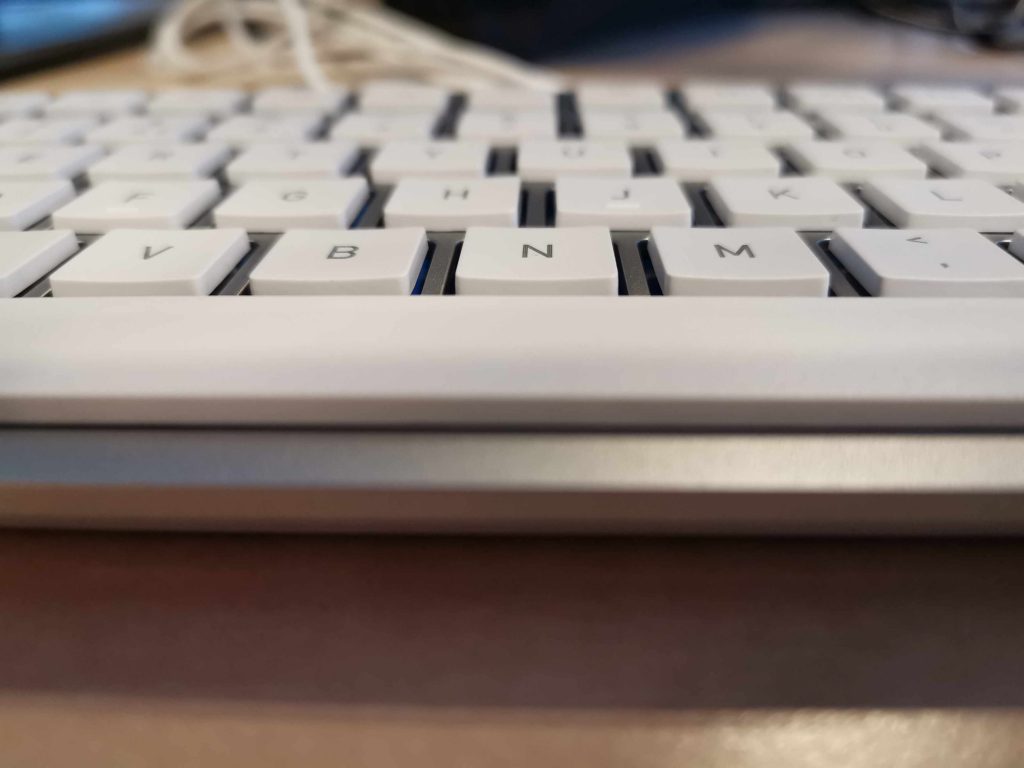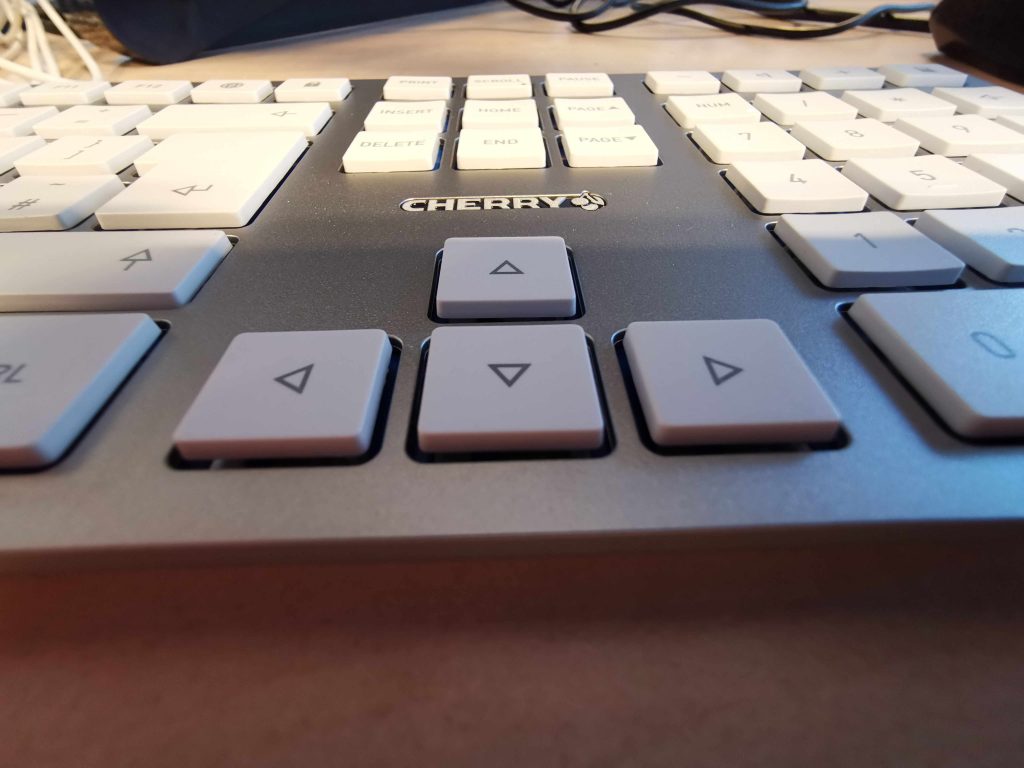 Pro: It is aesthetically pleasing and not too garish
This keyboard has no crazy backlighting and comes in two fairly neutral colours - a silver body with white keys, or a black body with black keys. Some may view the lack of backlighting as a negative, but this isn't a problem for me. I don't type in the dark as I don't have the eyes for it, and I touchtype.
Pro: It has a slim, low profile
This helps with having a general feel of neatness on your desk. The keyboard has only moderate bezels and has no ridges where dust and other crap can get stuck.
Con: The F11 and F12 keys are not directly above the backspace button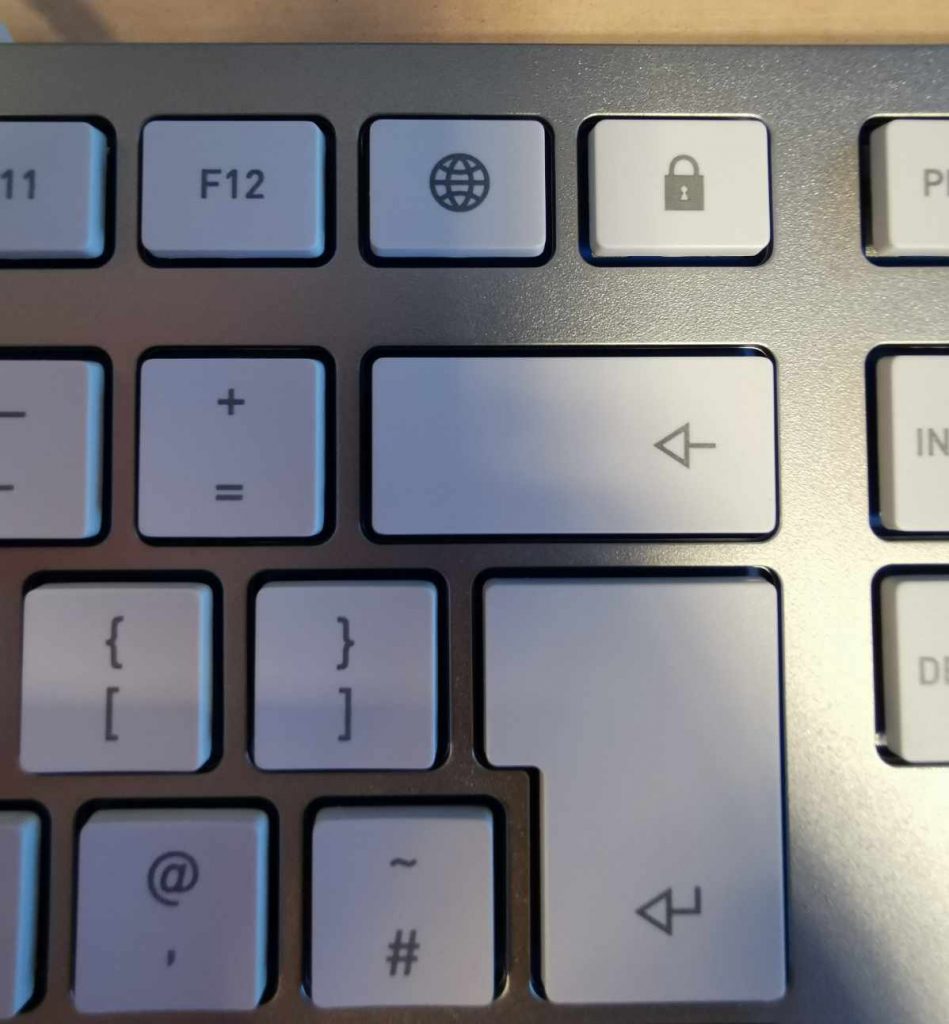 This is a small irritation as it just takes some getting used to. On most keyboards, the function keys are laid out in banks of 4, with a bigger space between every 4th function key. This space is gone on the Cherry KC 6000, and the saved space is given to two additional buttons - one to open your default browser, and another to lock your machine. I don't mind having these extra buttons, but annoyingly they are right above the backspace key, so it will take some getting used to not being able to naturally travel to the F11 key to go fullscreen, or the F12 key to open my Guake terminal.
Con: There is a backspace key in the numeric keypad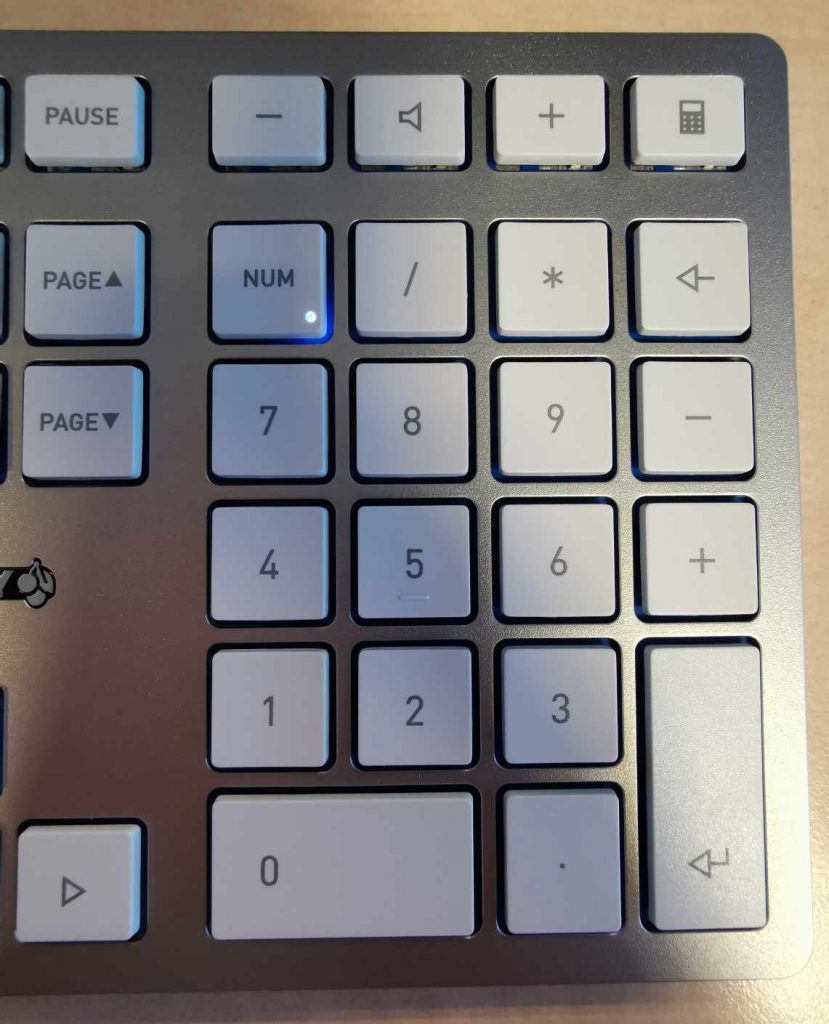 Again, this is another one of those small things that will take you a day or so to get used to. You'd normally only find one backspace key on a keyboard and would not expect to have one on the numeric pad. This one is positioned where the minus key normally is, so I've found myself accidentally deleting characters rather than putting in the minus character a few times.
Other reviews online think that the keyboard is not banked enough towards the user (the way most keyboards have legs that you can have up or down. The keyboard did initially look a little flat on my desk when I first set it up, but I've found that it has not impacted my typing at all.
Conclusion - a productivity win!
To conclude, I'm happy with the Cherry KC 6000 keyboard. I t has made me more productive, and is comfortable to use for long typing stints (think 6+ hours of programming!)